Civil War Ranch congratulates the following and thanks them for letting us host their Special Event:
Errin and Mayra Cosegua's celebration of Abby's 1st Birthday July 14, 2018
Gabrielle Moore &
Brett Rand Wedding Reception July 11, 2018
Webb City Ward and Friends 4th of July Celebration July 3, 2018
Nicole Barnes and
Christopher Collins Wedding Reception June 30, 2018
Shelby Norvell and
Nathan Cox Wedding Reception June 29, 2018
Audrey Vance and
Elijah Oliver Wedding Reception June 28, 2018
Karen Cameron and
Ian Derrickson Wedding Reception June 23, 2018
Employer Advantage Picnic June 22, 2018
Emily Griffiths and
Brett Workman Wedding Reception June 16, 2018
Kara Kinney and
Joey Graves Wedding Reception June 15, 2018
Ashley Demery and Austin Speak Wedding Reception June 9, 2018
Tara Brady and
Jacob Davis Wedding Reception June 8, 2018
Ashley Murphy and Matthew Patterson Wedding Reception June 2, 2018
PJ and Rachel Justice Renewal of Wedding Vows June 1, 2018
Mariah Poindexter and
Tyler Russell Wedding Reception May 29, 2018
Henry & Mary Fieker Family Reunion May 26, 2018
Sierra Moates and
Kaleb Hulsey Wedding Reception
May 19th 2018
Paige Blakeman and Brandon Holley Wedding Reception May 12, 2018
Laura Laxson and
Nathan Laepple Wedding Reception May 4, 2018
McAuley Catholic High School Prom April 21, 2018
Tori Gray and Kyle Nestrud Wedding Reception April 20, 2018
Hannah Milton and Courtney Borland Wedding Reception April 14, 2018
Michaela Schlichting and Klayton Richardson Wedding Reception March 24, 2018
Tammy McGeorge and Trey Hance III Wedding Reception March 17, 2018
Michelle Wigent and Kent Long Wedding Reception Nov. 13, 2017
Michelle Logan and
Robert Buchanan Wedding Reception Nov. 10-11, 2017
Kristian Cornell and
Cody Vinson Wedding Reception Oct. 28, 2017
Bridal Fair Under the Stars Oct. 27, 2017 (Thank you Mandy of GaTaKa Photography for sponsoring the wonderful event!)
Sally Self and Joshua Thompson Wedding Reception Oct. 21, 2017
Hailey Coleman and
Michael Hayes Wedding Reception Oct. 20, 2017
Allie Reynolds and Joseph Kashka Wedding Reception Oct. 14, 2017
Jenna Duesi and Trevor Maiseroulle Wedding Reception Oct. 13, 2017
Sandra Boyd and Michael Dillard Jr. Wedding Reception Oct. 12, 2017
If you've had a chance to visit the Civil War Ranch, please let us and others know about your experience!
Your reviews are an important part of the online marketing of our young but growing venture.
Just click on any of the links below and follow the short instructions!Please write a review for us.
You are here:  
Congratulations and Thanks
Getting Married?
Renewing Your Vows?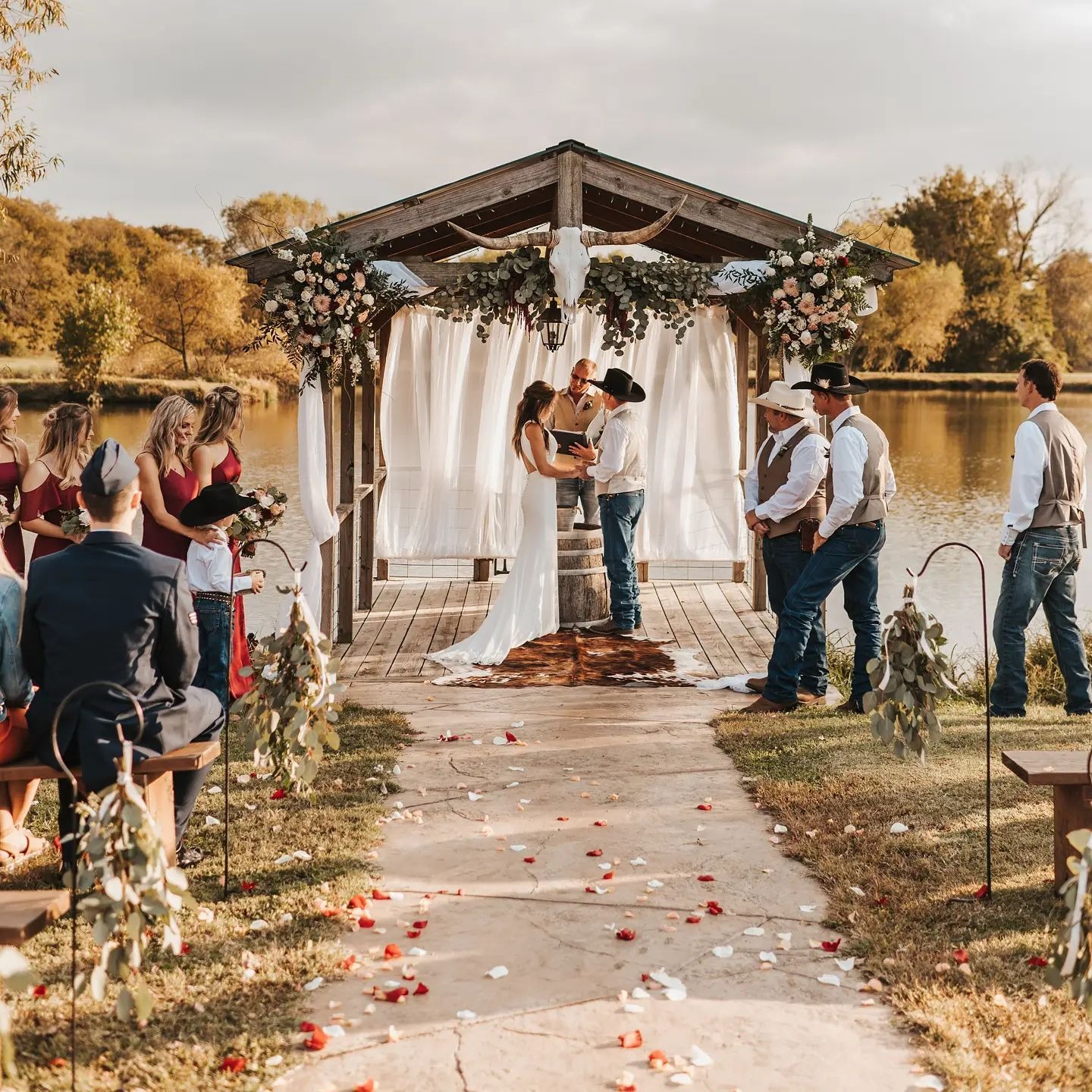 Civil War Ranch congratulates the following and thanks them for letting us host their Special Event:
Errin and Mayra Cosegua's celebration of Abby's 1st Birthday July 14, 2018
Gabrielle Moore & Brett Rand Wedding Reception July 11, 2018
Webb City Ward and Friends 4th of July Celebration July 3, 2018
Nicole Barnes and Christopher Collins Wedding Reception June 30, 2018
Shelby Norvell and Nathan Cox Wedding Reception June 29, 2018
Audrey Vance and Elijah Oliver Wedding Reception June 28, 2018
Karen Cameron and Ian Derrickson Wedding Reception June 23, 2018
Employer Advantage Picnic June 22, 2018
Emily Griffiths and Brett Workman Wedding Reception June 16, 2018
Kara Kinney and Joey Graves Wedding Reception June 15, 2018
Ashley Demery and Austin Speak Wedding Reception June 9, 2018
Tara Brady and Jacob Davis Wedding Reception June 8, 2018
Ashley Murphy and Matthew Patterson Wedding Reception June 2, 2018
PJ and Rachel Justice Renewal of Wedding Vows June 1, 2018
Mariah Poindexter and Tyler Russell Wedding Reception May 29, 2018
Henry & Mary Fieker Family Reunion May 26, 2018
Sierra Moates and Kaleb Hulsey Wedding Reception May 19th 2018
Paige Blakeman and Brandon Holley Wedding Reception May 12, 2018
Laura Laxson and Nathan Laepple Wedding Reception May 4, 2018
McAuley Catholic High School Prom April 21, 2018
Tori Gray and Kyle Nestrud Wedding Reception April 20, 2018
Hannah Milton and Courtney Borland Wedding Reception April 14, 2018
Michaela Schlichting and Klayton Richardson Wedding Reception March 24, 2018
Tammy McGeorge and Trey Hance III Wedding Reception March 17, 2018
Michelle Wigent and Kent Long Wedding Reception Nov. 13, 2017
Michelle Logan and Robert Buchanan Wedding Reception Nov. 10-11, 2017
Kristian Cornell and Cody Vinson Wedding Reception Oct. 28, 2017
Bridal Fair Under the Stars Oct. 27, 2017 (Thank you Mandy of GaTaKa Photography for sponsoring the wonderful event!)
Sally Self and Joshua Thompson Wedding Reception Oct. 21, 2017
Hailey Coleman and Michael Hayes Wedding Reception Oct. 20, 2017
Allie Reynolds and Joseph Kashka Wedding Reception Oct. 14, 2017
Jenna Duesi and Trevor Maiseroulle Wedding Reception Oct. 13, 2017
Sandra Boyd and Michael Dillard Jr. Wedding Reception Oct. 12, 2017
---
© 2018 Civil War Ranch